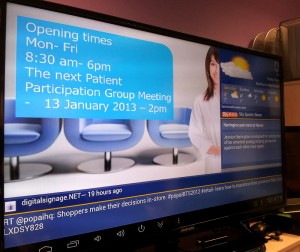 Waiting rooms, hallways and dining areas are ideal locations for communicating to your patients and educating them about treatments, procedures, diseases, risks and other health- related matters.
Make use of the time they spend here by employing digital information displays powered by digitalsignage.NET to improve service, enhance patient satisfaction and increase retention rates.
Our digital signage software enables you to cascade messages quickly across different estates by scheduling and displaying them on your screens.
digitalsignage.NET allows you to:
Establish a timely, accurate communication system by sending news and information to multiple screens in multiple locations with a few clicks of your mouse;
Intermix patient messages with staff communications;
Promote your services at no extra-costs;
Recommend your partners' products and services;
Reduce print costs and the environmental impact of your communications;
Involve staff in using the system regardless of their technical skills.
Digital Signage in Pharmacies
The system has seen a great uptake in this environment mainly due to the multitude of purposes that it can serve, such as:
Informing staff and customers;
Reducing perceived queue times
Communicating important medical information to key audiences;
Greeting visitors;
Providing entertainment in children's areas;
Advertising products and increasing uptake on offers;
Generating enquiries about local medical services;
A new British community pharmacy, for example, is using digital signage to reinforce its image and entertain its younger customers. Looking for a visitor and customer communication system that would match their ethos of being a premium provider of pharmaceutical services, they decided that digital signage was the right solution for them.
A screen in the pharmacy's main area – run by our software – is showing medical information and advice, pharmacy and medical centre messages along with seasonal information. Another display in the children's section is used to show children's TV programs. To learn more, read their case study.
Try out out software yourself for free