Merseyrail's chain of convenience stores, MtoGo, is now using our digitalsignage.NET software to run digital displays for ticket promotions, shop offers and general information in order to enhance passenger journey experience.
The main aim of the digital signage network is to increase brand awareness through displaying the promotions and offers to customers.
Merseyrail already has the cloud-based software in use for internal communications, displaying the dashboard and KPI targets. The company will now be expanding the digital signage screens to around 7 other sites across the greater Liverpool area.
Thomas Philip, Business Analyst at Merseyrail, commented on digitalsignage.NET: "This is a simple solution that can be easily deployed. It can be accessed from anywhere if you have an internet connection. The scheduler functionality is very good and the product is cost effective."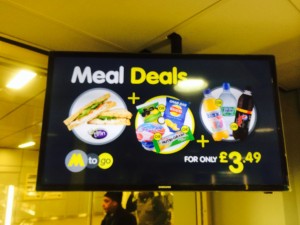 Making passengers aware of the MtoGo is important as it is a significant component of the end of journey experience for rail users. The digital screens provide a more noticeable source for shop offers and information compared to the static signage in place before.
The Samsung commercial screens are 32" landscape back to back, one faces the underground and one faces the shop.
About Review Systems Digital Signage Ltd
Review Systems Digital Signage Ltd is one of the first and longest standing digital signage providers in the industry. Their enterprise digital signage software reaches over 30 million consumers around the world every week, delivering customised and highly targeted news, advertising, and informational content to thousands of networked screens.
About Merseyrail
Merseyrail carries ca 110,000 passengers per weekday and scores for reliability and punctuality averaged over 95 per cent during the last 12 months. Merseyrail operate one of the most intensively used networks in the UK with more than 800 trains per weekday. Merseytravel is the combined Passenger Transport Authority and Executive for Merseyside and is owned by Network Rail, operator of most of the rail infrastructure in the UK.