Pendle Leisure wanted to create a well-designed visitor information point, to be located in the Café area within retailer Boundary Mill's flagship store outlet, based in Colne, Lancashire.
Pendle Council sent out a tender document to a number of Audio Visual and Digital Signage Business across the Lancashire area. The shortlist created from this tender, resulted in a number of companies providing demonstrations of their products and services to the council.
"digitalsignage.NET,Core Edition" was chosen to drive the dynamic content mix of high impact videos and location based events and activities.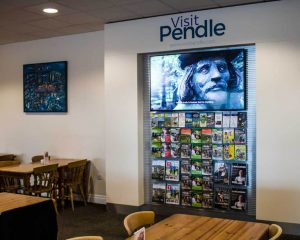 Mike Williams, Tourism Officer for Pendle Council comments " After a number of supplier site visits and demonstrations from various Digital Signage companies, we chose digitalsignag.NET. We did so because it offered us a simple, easy to use system, which was good value for money".Digitalsignage.NET has been installed with a number of council offices across the UK providing high impact information screens for use in waiting rooms and cafe areas where a high footfall of people occurs. These displays are used to deliver targeted messaging to both visitors and council staff members.
Mike continues " The impact of the large 65" display has an instant attraction for visitors to the café. The media content delivers a mix of local attractions, events and information about the area of Pendle. The information mix gives newcomers to the area a taste of what is on offer in the borough, and for locals a sense of pride that they live in one of the most picturesque parts of the country. The information shown has also driven people to our website, www.visitpendle.com where visitors can browse in more detail what the borough of Pendle has to offer. This traffic has increased since the introduction of the display. "The 65" display is inset within a bespoke branded housing and contains a leaflet dispenser made by XY Projects . Leaflets for local events and places of interest are available for visitors to take away for free. The combination of the bright display, delivering eye catching content and the take away hardcopy leaflets, work perfectly together in promoting the area of Pendle."
Mike goes on to say "The software, digitalsignage.NET is cloud-based. With no expensive server hardware to purchase and maintain the system it has been very cost effective for the Council.We have been able to add all of our promotional videos and event based slides to the system and within a matter of minutes all our content is showing on the Boundary Mill screen. The great customer support that Dynamax have given us since the start has been exemplary. "
Boundary Mill Stores, established 30 years ago are dedicated to providing the best quality brands at the best available prices. They have retail outlets based in Colne, Grantham, Newcastle Sheffield and Walsall
If you would like to know more about the installation at Boundary Mill Stores, Colne or any other areas of digital signage, then please get in touch.
Why not try out our software for free