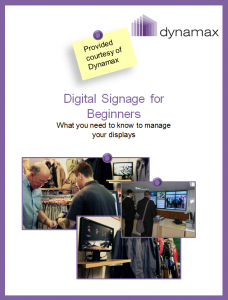 We know that for most people digital signage is an "alien" term . It sounds scary and confusing,  it usually doesn't tell you a thing. Yet, the concept is as common as seeing a screen with  information in various locations: from reception areas to check-out points in shops, from doctors' waiting rooms to train stations.
The main idea behind digital signage is simple: it's all about information and delivering it to the right people at the right time. It's also about money.
This whitepaper will teach you:
How digital signage can help you enhance the image and revenue of your business or institution;
The difference between a hosted and a cloud- based digital signage system and how to choose the right one for you;
What features and capabilities you should be looking at when choosing your digital signage solution;
What you need to buy to set up a functional network of screens;
Download it now and bid farewell to lifeless locations!