digitalsignage.NET is compatible with a wide range of Media Formats.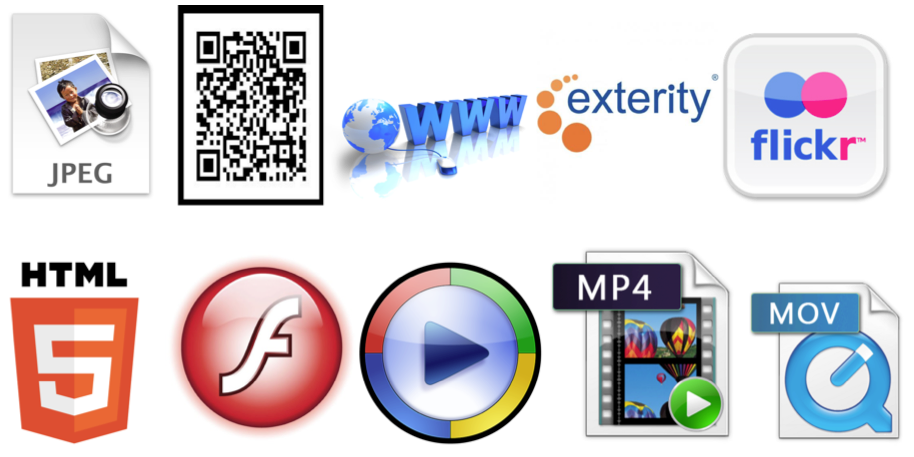 Video
digitalsignage.NET supports any video including .MOV, MP4 and WMV. The system has the ability to take any video and re-encode it to suit all supported devices. All video content is encoded into .MOV H.264. This ensures that users that have no knowledge of the complex world of video codecs will have not have any problems uploading and viewing playback of their videos.
Images
Jpeg images can be uploaded into the digitalsignage.NET software and scheduled to play along side other media assets. These images can also be edited, if required, directly with digitalsignage.NET using our inbuilt image editor.
HTML and Web pages
HTML and URL Web pages (ie.http://www.digitalsignage.net) can be scheduled and played within a playlist allowing the user to create either bespoke HTML pages or display their company website
Photo stream
Flickr is supported in digitalsignage.NET allowing a slide show of photographic content (Flickr account required) to be streamed live to your screens. Simply add your Flickr Gallery URL and your images will play.
Adobe Flash
Flash based media files (file extension .SWF) can be played on suitable devices that support the Adobe Flash media format
IPTV
digitalsignage.NET allows IP video to be configured to play via compatible media players. Support for the Exterity IPTV system is provided and allows users to multicast media channels via an IP network. This delivers excellent video quality without loss to multiple users connected to your network. These channels can be from satellite, Freeview, CCTV and many more sources, all streamed to your digital signage network.
Widgets
Widgets, including QR codes, Weather and Social Media, can be scheduled within a Layout and also be added to a playlist together with all other supported media formats
Please check out our Features page for more information and our supported Media player devices