Review Systems uses digitalsignage.NET for its advertising screens

Blackpool-based company, Review Systems, specialising in building and managing a nation-wide advertising network uses digitalsignage.NET to manage its screens in various locations across the UK.
With digital displays in motor dealership, insurance brokers and finance offices and more than 120 clients nationwide, the company generates revenues exclusively through advertising, so it needed a reliable solution for managing its operations.
Previously to using digitalsignage.NET, staff from each location was manually replacing SD cards every time the content needed to be refreshed, a new advert had to added or another one removed. Given the limitations of a system based on SD cards, the company decided to use digitalsignage.NET and be able to:
offer its clients a proof-of-performance (attesting that their ads have been shown on the right screens and for the right amount of time);
update and schedule ads straight from their offices and monitor the network remotely, without having to travel to the location of each individual screen or mail SD cards.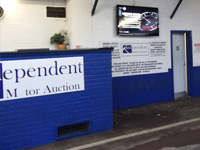 Jonathan Brown, Director at Review Systems LTD said "For a while I had been looking for a solution that could replace my current estate but nothing seemed to match my specific needs. I was after a piece of software that was simple to use not only for me but for my client base too. Dynamax's digitalsignage.NET allowed me to supply all the content I needed, preview it and publish it straight from my offices to the relevant sites.''
Yorkshire-based motor dealership- Independent Motor Auctions is the first beneficiary of the system. Samsung LCD screens (of 32" and 41") powered by IAdea's XMP – 130 wireless players and run by digitalsignage.NET have been installed in the show room and reception area displaying adverts of cars and other location – based messages.
—Read our recent case- study and discover how cinemas in England and Scotland use digital signage solutions run by our digitalsignage.NET and provided by Review Systems.